What is Thrive Themes?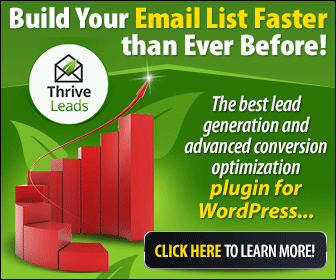 Thrive Themes is a set of powerful WordPress Themes and Plugins created by Shane Melaugh (the creator of SE Cockpit, Hybrid Connect, and the blogger behind ActiveGrowth).
What is Thrive Content Builder
Thrive Content Builder is a real what you see is what you get editor for WordPress. It means that if you use this plugin, instead of using the classic WordPress Interface, you will pre-load the page as your visitors will see it and write on it directly. But see for yourself.
These are the current list of Plugins included when you purchase a Thrive Themes membership: (save more than $700 by using this affiliate link and when you get the annual plan (recommended).
Thrive Architect – this plugin allows you to build landing pages and create beautiful posts like this.
Thrive Leads – this is SUPER useful as it allows you to capture email subscribers in many ways
Thrive Ovation – capture and display customer testimonials on your website
Thrive Ultimatum – this is a countdown timer with evergreen functionalities and more
Thrive Headline Optimizer – this allows you to test which article headline works best
Thrive Clever Widgets – this allows you to customize the content of your sidebars and widgets
Thrive Quiz Builder – want to create quizzes on your site? This tool does that and more
Thrive Apprentice – build membership blogs and offer paid access to content using this plugin
Thrive Comments – a new way to attract and upvote comments on your website
Thrive Optimize (NEW) released February 2018 – Run A/B split-testing on your pages and website
I've been using it for more than 2 years and I've used it for this website as well as my other niche sites.
I've also ranked websites created with Thrive Themes to the top of the search results (yes, sites built on Thrive Themes get free traffic from Google and other search engines).
But rather than repeating the information that's already available on the official website, I'll share my personal favorites and frustrations when using Thrive Themes.
Disclosure: This website is using most of the Thrive Themes plugins available. You'll discover my top Thrive plugin favorites (and why) as well as those that I avoid using or didn't have time to use.
Plugin #1 – Thrive Architect
Just in case you didn't know it yet, Thrive Architect used to be Thrive Content Builder. Actually, it had the same purpose, but Thrive Architect was completely re-coded (read my full review) and very much differ from how you use Thrive Content builder.
So if you're using Thrive Content Builder before and have planned to migrate to Thrive Architect, you might encounter some incompatibility issues. It's best to contact us to help with you the migration process just to be sure your elements and design transfers properly.
WHY WOULD YOU WANT TO USE A VISUAL EDITOR LIKE THRIVE ARCHITECT?
That's a very good question. The reason you want to use a visual editor is to help you design better and more engaging content. If your content appeals to your readers because of design and it's aesthetic beauty then you'll have higher conversions as more people would stay longer and engage on your website.
You maybe wondering, why not design your WordPress posts and pages with Photoshop or HTML? You can, but that would definitely take longer.
Thrive Architect allows you to quickly design your posts and pages without the need for third party design and graphic tools like Adobe Photoshop. And there's no coding too* as Thrive Architect is a FULL Drag-and-Drop plugin!
*You can still write code like HTML but that's entirely optional, but it's available if you want to use it.
Plugin # 2 – Thrive Leads
If you're building your email list of subscribers who said "YES" to receive your marketing materials then you're ahead of the game. Most website owners are not even doing email marketing.
Research shows that email marketing is still ONE, if not the channel that brings the highest ROI when it comes to online marketing efforts and campaigns.
And while there are many ways to capture and get more email subscribers, I don't know of any other tool like Thrive Leads that matches it's capabilities, features, and function at the price point it provides.
If you're subscribed to the monthly or annual membership of Thrive Themes, you'll even get Thrive Leads for FREE!
Here's a FUN FACT about me. At first, I've hesitated to purchase Thrive Themes because most of the plugins back then are already duplicate functions of what I already have (from Free and Paid Plugins).

Thrive Themes VS Leadpages
Similar to Clickfunnels, Leadpages is a landing page platform that is self-hosted. Which means that you don't need WordPress to build your landing pages with Leadpages.
Leadpages is much cheaper than Clickfunnels, but Leadpages has less features than Thrive Themes as well. The only reason I'll use Leadpages over Thrive Themes is if I want a NEW funnel or landing page quickly tested.
Creating landing pages with Leadpages is really quick and easy. But the downside of that is it's limited in design functionality (not enough spacing and padding options).
For my main website, posts and pages, I didn't hesitate to use my StudioPress and Thrive Architect combo settings.
Conclusion
As you can see by the length of this Thrive content builder review, the tool is extremely comprehensive and at this point I am struggling to think of a type it could not create except for complex parallax scrolling type pages.
But let's recap, with Thrive Content Builder you get:
An incredible drag & drop WordPress post and pages editor.
Hundreds of great unique elements like content reveal, click to tweet, star ratings etc.
An editor that works with revision manager if you make a mistake
A great landing page engine and generator, allowing you to replace costly monthly services.
A call to action pop up plugin allowing you to boost sales if used smartly.
A great A/B testing engine combined with Google analytics experiments.
I really hate biased reviews but you get all of that for $59. That's the best $59 you'll ever spend on your website and if you had 1 tool to buy, it would be this one in my opinion.